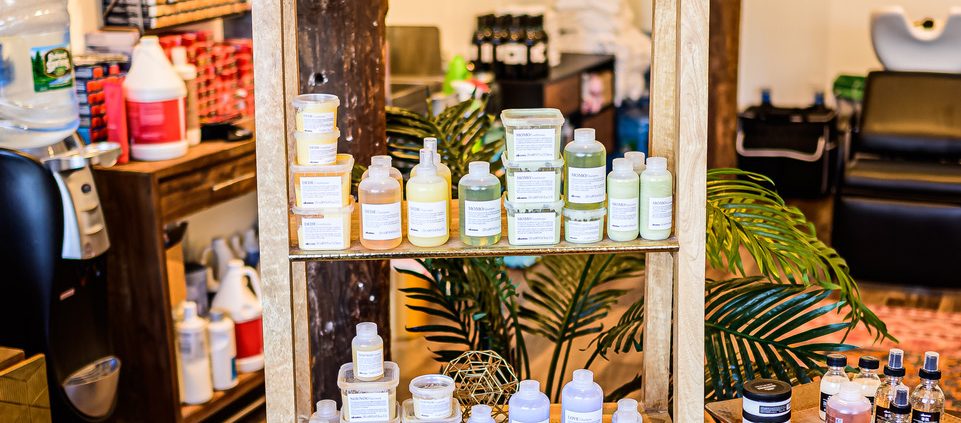 Services and Salon Policies
If this is your first time visiting us, we recommend booking a consultation. We offer in-salon and virtual consultations for your convenience.
Pricing is based on: The level and experience of your stylist, the length and integrity of your hair, the time required to perform your service, and the amount of product required to achieve your desired color, cut or style.  Again, we highly recommended that you book a consultation prior to your appointment to ensure you are comfortable with everything from process to pricing to aftercare.
Prior to booking your appointment, we kindly ask that you scroll down to view all of our policies, information and current guidelines. We want to ensure that you have a comfortable and satisfactory experience at our salon from start to finish.  If you're unsure of the service you need, we are here to help. Give us a call and we can guide you so that you don't experience any booking issues.
Prior to your service
In-salon Consultation: $35
Virtual Consultation: $45
Cut
Haircut: $75-$125 (long, mid length, shoulder length and pixie. 60-75 minutes)
Short haircut: $45+ (Clipper cut, buzz-cut, shears-over-comb cut, "mens haircut". 30-45 minutes)
Bang, Fringe or Face-frame trim: $25-50 (15-25 minutes, no shampooing or styling)
Style
Blowout: $45+
Up-do/Down-do, Up-Style: $95+
Formal or Special Occasion Blowout: $65 (includes flat or curling iron)
Tape-In or Hand-Tied/Weft Extensions: consultation required
Color
Single Process/root touch-up: $85+
Double or Triple Process (platinum blonde, white-blonde): $350+
Face-frame foil: $120+
Partial Foil: $200+
Full-head foil: $300+
Toner, gloss, glaze: $65+
Face-frame balayage: $120+
Partial balayage: $200+
Full-head balayage: $300+
Grey Blending and Silver Transition: consultation required
Corrective color: consultation required
Vivid or fashion color: consultation required
Control
Our conditioning and smoothing treatments are created and customized to suit the needs of your hair.
Hydrating or Moisturizing Treatment: $75
Damage Control Treatment: $75
Wellaplex Treatment (great for hair prone to breakage): $85
Brazilian Blowout Smoothing treatment: $300* (Comes with a free full size shampoo/conditioner)
*Price of the Brazilian Blowout can increase based on length of hair.  We perform this service on Monday's in 
our Warren studio for proper ventilation. Treatment lasts 6-12 months.
Hairstyling Lesson (In-Salon or Virtual)
Looking how to make the most of your new cut or style? Need some styling tips or hair advice?
Recently purchased a new hot tool or new product?
Book a "hair how-to" session and learn from the pro's about how to tame your mane with minimal effort.
$75:  60 minutes, In salon or Virtual
Ceremony/Celebration/Special Occasion
Are you getting married, united or celebrating a special occasion? We have pricing and packages available upon request. Please email leah@lalaluxesalon.com for a list of our prices and packages. We can travel to you or accommodate you in either salon. We do have some stylists that offer makeup services as well. Please call or email us for more information.
New Requirements/Guidelines and Salon Policies 
When you arrive for your appointment, please call our salon (PROVIDENCE: 401-383-3797  /  WARREN: 401-289-3787).  Once we are ready for you, we will call you and let you know that you can come in. Please do not bring any other guests or individuals with you to your appointment. If you require assistance from a caregiver, or if you are the parent  or guardian of a child getting a service, you must communicate this prior to the appointment so that we are prepared.
You must wear a mask for the entire time you are in our salon unless a medical condition prevents you from being able to wear one.
If you're experiencing any of these symptoms: cough, shortness of breath/difficulty breathing, or a fever, you can not enter our salon. Please use our hand sanitizer prior to entering.
All appointments require a credit card to reserve. We can use that card to pay for your services or we can use another one at the time of the service.
If you can, please give gratuity in the form of cash or Venmo. We can accept gratuity on your card but we may charge a fee to do so. Please be advised that our Warren studio can not accept credit card gratuity.
If you're looking to cancel/reschedule your appointment, we kindly ask that you call us. Emailing us to cancel or reschedule your appointment is not the most efficient method for us as we get so many emails daily and we may not get it in time.  We absolutely can not cancel, reschedule, or alter any appointments through social media direct messages.
We ask that you call and give us 48 hours notice if you need to cancel or reschedule your appointment. This allows us time to fill the spot with someone that has been waiting a long time for an appointment.
If you fail to show up to your appointment without calling or contacting us, our system charges 100% of the service amount when a client is marked as a no-show.
LA LA LUXE DOES NOT OFFER REFUNDS OR CREDITS ON ANY SERVICES. We ware happy to fix anything that is not satisfactory if you call and visit us within 7 DAYS of the original service. All services re-done after 7 days will be subject to regular charges.
All products are non-refundable. Once you take a product home, you can not return it. Hair extensions are non-refundable.
If you are receiving a color correction, you may be required to visit us several times and have multiple corrective coloring sessions in order to achieve a beautiful end result and the proper correction. You will be charged accordingly for each visit/session during the corrective process.  Your stylist will explain all of this to you during your consultation prior to the service.
La La Luxe is not responsible for any damage to clothing left on under your styling/color gown/cape, so please dress accordingly. We have beautiful kimono gowns and belted gowns to wear while you're here. We are not responsible for any lost or stolen items while at our salon.
We are not responsible for damage to your hair due to undisclosed information from you regarding your history of hair coloring, bleaching, swimming in chlorine, well-water, product usage, past home-coloring, box-coloring, chemical treatments and any other treatments. It is extremely important that you relay all information and history of any services within the past 3 years.
We are a judgement-free zone and we pride ourselves on the safe, calm and relaxing vibe in both locations. Please leave the politics and judgement at the door.
Looking for a chat-free service?  Just mention this prior to your appointment either to our receptionist or in the comment section of our online booking. The only communication required will be hair-related.  We want you to feel as comfortable as possible and we know that sometimes you just wanna sit and skip the small-talk. We respect and support this.
Questions, concerns and thoughts can be sent to leah@lalaluxesalon.com 
We welcome your feedback and we are beyond appreciative of your continued business. Your advice and concerns have made us stronger and better for 11 years.