Our Team
Each stylist has undergone extensive training, classes, and continuing education in and out of the salon regardless of their years of experience. Owner, Leah classifies each stylist based on the number of years in the industry, the level of skill, creativity and natural artistic talent. If a stylist has recently graduated from Cosmetology school, completion of our salon assistant program must take place prior to working behind the chair.
If you have any questions or concerns regarding a stylist and their level of experience, we ask that you call us or book a consultation prior to booking your appointment.
MASTER  STYLIST: 12+ years of experience
SENIOR STYLIST: 6-12 years of experience
 STYLIST: 1-6  years of experience
Leah Carlson, Owner and Master Stylist (Providence and Warren. Currently taking new clients in Warren only)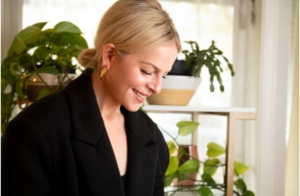 Follow me: @ladyleelee/ 
Follow the salon: @lalaluxesalon
Owner, Leah Carlson has been creating one-of-a-kind haircuts, styles and custom color for 22 years.  She graduated from Arthur Angelo School of Cosmetology in 2000 after attending CCRI and RIC for Fine Arts.
She attended classes and mastered her cutting craft at the Vidal Sassoon Academy in Miami in 2004.  She learned the technique of straight-razor cutting and custom coloring with Nick Arrojo and his educational team at Arrojo Studio in NYC in 2006 and 2009. It was during those times that she truly learned the importance of creating shape, depth and movement by combining a razor or shear haircut with the perfect complimentary hues.
Leah attended cutting, up-do and styling courses taught by celebrity stylist, Oribe in Boston and New York in 2012 and 2013. Keeping current, she has taken several in-person and online courses within the last 10 years becoming highly skilled in the latest cutting/coloring techniques and trends. Most recently, Leah attended a modern foiling, coloring and business class with master stylist and educator, Gina Bianca at Hair Studio NY in Brooklyn, NY. It is there that she honed in on her business and teaching skills. Every third Monday of the month, Leah teaches her staff new techniques and skills in hopes of providing proper education while mentoring. It is a dream for Leah to someday have an educational and mentoring program in place for other growing stylists and entrepreneurs in the area. Her motto has always been: pay it forward, especially with education and guidance.
One of Leah's favorite services to provide is grey blending and grey transitioning. You can find some of her work @thegreymaker and also all over the salon Instagram page @lalaluxesalon. Leah is also highly experienced in: pixie and short haircuts, straight-razor and precision cutting, balayage and free-style highlighting, foiling, multi-dimensional coloring, pastel coloring and corrective coloring. Other specialties include blonding and double-process/platinum blondes, lived-in color/highlighting and soft ombre. Leah's artistic and fun approach to hair can transform your look or help you work with what you've got. Her color certification is with Wella and Schwarzkopf.
You can also see many Leah's up-do's and styles on social media and in Inside Weddings Magazine, Southern New England Weddings Magazine, Bliss Celebrations and Grace Ormonde Wedding Magazine.
La La Luxe was featured in American Salon Magazine as one of Rhode Island's hottest new salons in 2011. Leah has been featured in Rhode Island Monthly, Providence Monthly, The Bay, and numerous local publications over the past 10+ years. She has been a frequent go-to for style and hair trends on local TV show, "The Rhode Show" since 2010.
A mother and salon-owner by day and a musician and artist at heart, Leah wears many hats but it is her passion and drive in the hair/beauty industry along with her amazing team that continues to push her forward in this ever-changing and challenging industry.
"Gorgeous and luscious hair is the cherry on top, but it really starts with one thing and that is knowing that my clients feel at ease and truly comfortable while in my chair. I believe that there is nothing more sacred in this industry than that. I am here to make sure everyone leaves happy and feeling their absolute best from start to finish." Leah believes that the positive vibe within the salon is due to her team of caring and creative stylists supporting one another and inspiring each other every day.
"We are a zero judgement salon and I am lucky to work in an environment like the one at La La Luxe. I can happily say that I constantly look to my team and my guests for inspiration every day.
I thrive on the creativity of my staff in the salon as well as the happiness and satisfaction of all of our guests."
Casey Harrison, Master Stylist (Providence) Follow me: @hair_bycaseyy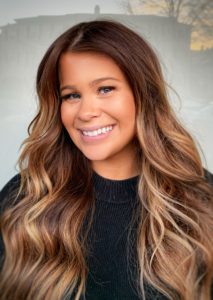 Casey gained major experience in Boston where she grew as an artist while bringing out the best in everyone who sat in her chair.  With over 13 years of experience, Casey is a creative force at La La Luxe Salon where she continues to master her craft in all forms of balayage-highlighting and coloring, free-hand hair painting, corrective coloring, multi-dimensional coloring and blonding, foil highlighting and lowlighting, ombre, vivid coloring and platinum blonding.  Casey is also highly experienced with tape-in extensions.  She is certified in Goldwell, Davines, and Pravana color and product knowledge and is highly trained in all areas of Wella color. Casey can create beautiful styles and blowouts that last and loves showing her guests how to recreate those same looks at home.  Aside from her technical and artistic background, she is a wonderful mother and wife and enjoys spending time with her family.  Not only will you fall in love with Casey's warm personality and creativity, but you will also fall in love with your hair.  Casey specializes in balayage highlighting and corrective color.
Megan Meyer, Master Stylist (Providence and Warren) Follow me: @megan.lalaluxe
Megan is a Southern California Native with a passion for styling and a strong focus on the health and integrity of the hair. She began her love affair with hair over 15 years ago while attending Paul Mitchell the School. After she mastered her skills as a Schwarzkopf Master Colorist, Kevin Murphy and Unite product specialist, she also developed a passion for styling gorgeous updos and long, loose waves for Brides and their maids. Megan has been featured in publications such as Style Me Pretty, Once Wed, Green Wedding Shoes and Australian White Magazine.  Megan's specialties are lived-in coloring/highlighting, low-maintenance blonding and low-maintenance coloring and cutting. She specializes in all areas of hair: Coloring, blonding, foil highlighting, foilayage, colormelting, curly hair cutting and coloring, multi-dimensional coloring, long hair dressing, precision haircutting, and mens-style cuts and grooming.
"I want my clients to feel confident that with my knowledge and help they can create the same stunning hair at home everyday. "
Ashley Amiot, Stylist (Providence and Warren) Follow me:  @ashleythehairslayer_
As someone who has been enamored with self expression from an early age,  Ashley has always known that her ideal career would be one that allowed her the freedom to be creative. While in art school, she explored various forms of expression which is how she discovered her passion for the beauty industry. As a hair artist, Ashley understands how much of a responsibility she has in bringing her clients' visions to life. She is proud to be driven, both by her innate desire to help others feel great about themselves and by her own personal passion for creative colors and cuts. With 3 years behind the chair, Ashley loves to explore new aspects of the industry, and has most recently started offering nail services such as manicures, gel manicures and nail extensions from Apres Nail as well as offering Hairtalk hair extensions.  Ashley is also experienced in balayage, colormelts, foil highlights, vivid haircoloring, short hair, long hair, pixies, shags, mullets, shaglets, edgy cutting and coloring, buzz cuts, fades, super short cuts and anything and everything in between. You could say she does it all. She believes that the opportunity to develop strong relationships with her clients is a beautiful aspect of the industry, and she aims to make her chair a safe, peaceful haven for any and all who seek her services. Follow @ashleythehairslayer_ for fun posts, tips and everything hair.
Sara Harriss, Stylist (Providence and Warren) Follow me: @bloomingbeautybysara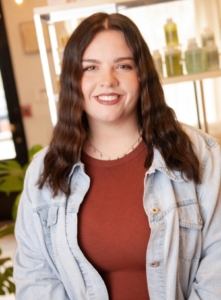 Sara has had a love for the art of shaping hair since she was a little girl, and found one of her moms books on braiding. "I remember spending hours at a time teaching myself the art of braiding on my doll's hair. Throughout High school, I was always the one making sure all my friends hair was perfect for every dance."
Sara recently relocated to Rhode Island after living in Spokane, WA for the past 6 years. She is a graduate of Great Northern University. Sara received her Bachelors of Art with an emphasis in Intercultural Studies. She is passionate about cultivating healthy relationships, living authentically, and creating safe spaces. Sara's love for learning about other cultures led her to an internship with Alabaster Jar, a non-profit organization that provides resources to victims of trafficking in Berlin's red light district. "That summer all the things I was passionate about and loved collided in the most beautiful way.  I saw how the art of beauty could be healing and peaceful even in the midst of suffering."
After that summer, Sara decided to pursue getting her cosmetology license from Toni and Guy Hairdressing Academy. Sara is excited to see her dream from such a young age finally come to fruition. Sara specializes in dry haircuts, color transformations, red and copper haircolor, lived-in haircolor and highlights, low-maintenance cuts and color, grey-blending, balayage, dimensional color, foil highlighting, haircuts, special occasion hairstyling and bridal hairstyling.
Danielle Dungan, Master Stylist (Providence) Follow me: @petite.stylist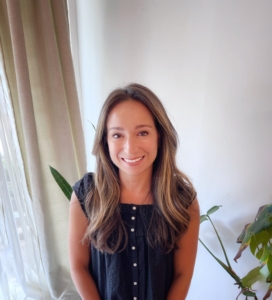 Trained through Aveda, Danielle comes to La La Luxe with over 12 years of experience. With a BA in marketing and experience working for a fashion magazine, Danielle chose to pursue her passion for hair.

Danielle is trained as a master cosmetologist in hair, nails, and skin. Originally from New England, she began her career in Atlanta where she worked at one of the top salons in the city. It was there that she honed in on her skills through a mentorship and extensive education program in cutting, coloring and styling.
Danielle is highly trained in wet and dry cuts, razor cuts, textured cuts and corrective cuts.  She is also highly experienced in balayage and freestyle highlights, foiling techniques and natural, lived-in highlights and color. She specializes in gray coverage, double-process color, dimensional color, transformative looks or maintaining a current cut and color.

Danielle was nationally recognized and awarded for her styling and coloring skills and her avant-garde designs. She's been featured online and in Style Me Pretty for her wedding updo's and make-up.

Danielle has traveled around the country continuing her education and knowledge of all aspects of hair from in-depth methods to modern styling and innovative color techniques.  Danielle has extensive training and further knowledge in a wide range of product lines, and became an ambassador for Kerastase.
Upon returning to her New England roots, Danielle has found her new home at La La Luxe salon in Providence. Her love for each of her guests makes sitting in her chair an absolute joy. She loves making her guests feel beautiful and confident and wants everyone leaving the salon feeling relaxed, refreshed and looking forward to their next visit.
Brinley Foley, Salon Coordinator (Providence)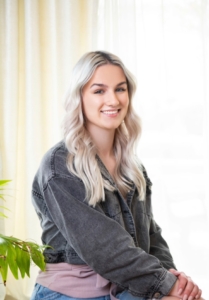 Brinley holds our front end together and all of the stylists schedules together too! You can rest assured knowing that she will apply her professionalism, eye for detail and amazing organizational skills to each and every appointment booked.  If you're looking for efficiency topped with a pleasant and positive attitude, then you have come to the right place. Brinley is the bright and cheerful voice on the other end of the line because we know that talking to a real person is still very important these days. Have a question about a product, service or anything hair or appointment related? Ask away. She is here for all of your product, service and booking needs and accommodations in these busy times.