Our Team
Our team has a variety of skills, knowledge and experience. Every stylist participates in continuing education whether in our salon or out.  If you have a specific question regarding a stylist and level of experience, we ask that you book a consultation prior to booking your service appointment.
MASTER  STYLIST (stylist has 10+ years behind the chair)
SENIOR STYLIST (stylist has 5+ years behind the chair)
STYLIST (stylist has 1-5 years behind the chair)
NEW TALENT STYLIST (stylist is new to the industry/behind the chair…we all started here at one point)
Leah Carlson, Owner and Master Stylist (Providence and Warren)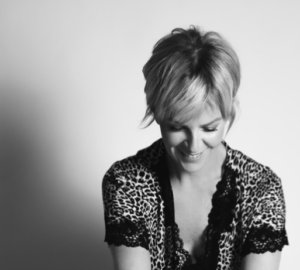 Owner, Leah Carlson has been creating one-of-a-kind craft cuts and custom color for over 20 years.  She attended classes and mastered her cutting craft at the Vidal Sassoon Academy in Miami.  She learned the technique of straight-razor cutting and custom coloring with Nick Arrojo and his educational team at Arrojo Studio in NYC.  It was during that time that she truly learned the importance of creating shape, depth and movement by combining a razor or shear haircut with the perfect complimentary hues.
She has also attended cutting, up-do and styling courses taught by celebrity stylist, Oribe in Boston and New York and brings this unique experience and expertise to La La Luxe.  Her color of choice (along with her staff's color of choice) is Wella and has been for over 15 years.  Leah is highly experienced in: straight-razor and precision cutting, balayage and free-style highlighting, foiling, multi-dimensional coloring, pastel coloring and corrective coloring. Her specialty is grey and white blending, blonding and double-process/platinum blondes. You can see many of her up-do's and styles all over social media and also in Inside Weddings Magazine, Southern New England Weddings Magazine, Bliss Celebrations and Grace Ormonde Wedding Magazine. La La Luxe was featured in American Salon Magazine as one of Rhode Island's hottest new salons in 2011. Leah's artistic and fun approach brings a free spirit to a boring "do" or a clean, classic edge to a "messy" head.
A mother and salon-owner by day and a musician and artist at heart, Leah wears many hats but it is her passion and drive in the hair/beauty industry along with her amazing team that continues to push her forward.
"Gorgeous and luscious hair is the cherry on top, but it really starts with one thing and that is knowing that my clients feel at ease and feel absolutely comfortable while in my chair. I believe that there is nothing more sacred in this industry than that. I am here to make sure everyone leaves happy and feeling their absolute best from start to finish." Leah believes that the positive vibe within the salon is due to a team of amazing stylists supporting one another and inspiring each other every day. "We are a no-judgement salon. We look to each other for inspiration and we thrive on the happiness of our clients."
Casey Harrison, Master Stylist (Providence) Follow me: @hair_bycaseyy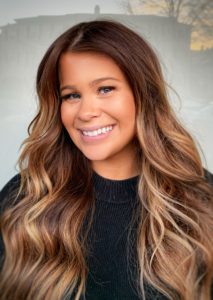 Casey gained experience at an upscale salon in Boston where she grew as an artist while bringing out the best in everyone who sat in her chair.  With over 11 years of experience, Casey is a creative force at La La Luxe Salon where she continues to master her craft in all forms of balayage highlighting and coloring, free-hand painting, corrective coloring, multi-dimensional coloring and blonding, foil highlighting and lowlighting, ombre, vivid coloring and platinum blonding.  Casey is also highly experienced with tape-in extensions.  She is certified in Goldwell, Davines, and Pravana color and product knowledge and is highly trained in all areas of Wella color. Casey can create beautiful styles and blowouts that last and loves showing her guests how to recreate those same looks at home.  Aside from her technical and artistic background, she is a wonderful mother and wife and enjoys spending time with her family.  Not only will you fall in love with Casey's warm personality and creativity, but you will also fall in love with your hair.  Casey specializes in balayage highlighting and corrective color.
Jessica Regnault, Master Stylist (Providence and Warren) Follow me: @j.regnaultbeauty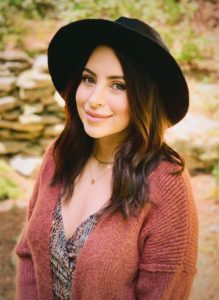 Jessica has always felt like she grew up in a salon. Watching her mother work as a hairstylist behind the chair, she was enamored with how you could manipulate and change hair to create something beautiful and completely transform someone's confidence. With 11 years experience herself, she loves to connect with clients and formulate visions into reality. Combining foil and color techniques to accentuate a textured cut and style, and showing clients the potential of their hair is one of her biggest passions. Jessica specializes in classic and modern techniques of cutting, coloring, highlighting, foil-highlighting, foilayage, and corrective coloring.
Outside of the salon, Jessica loves to travel, read, and listen to true crime podcasts. She obsessed with anything design-related, and loves exploring new styles and trends.  Recently relocating to Rhode Island after living in Japan for a year, she is ready to be back creating behind the chair.
Sophia Trapassi,  Stylist (Providence and Warren) Follow me:  @sophiatrapassihair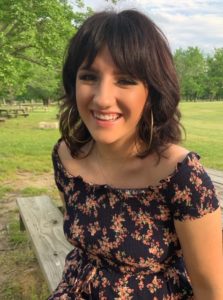 I guess you could say Sophia's experience and interest in hair started at a very young age. Her mother was also a hairstylist. Sophia attended college but couldn't imagine a life or a career in which she wouldn't be able to utilize her creativity and artistic drive. After college, she decided to take the leap into cosmetology and she couldn't be happier that she made that decision.
Growing up in a salon and watching her mother work is a big contributor to her natural talent and skill along with the love for the art of hairstyling.  With 2+ years of experience behind the chair, Sophia loves cutting hair and is passionate about shorter haircuts too. In addition to her love of short hair, Sophia loves layering and adding movement to long hair too. Sophia enjoys seeing how a well-crafted cut impacts a color and how the two can compliment one another. She is highly skilled in all foiling techniques (she could foil all day) as well as balayage, classic blonding techniques, hair painting, creative coloring, corrective coloring, long-layered cuts, shorter cuts/pixie cuts, long shags, textured cuts, and mens hair cutting and grooming as well.
Ashley Amiot,  Stylist (Providence) Follow me:  @ashleythehairslayer_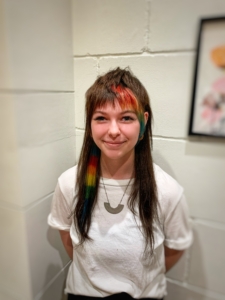 As someone who has been enamored with self expression from an early age,  Ashley has always known that her ideal career would be one that allowed her the freedom to be creative. While in art school, she explored various forms of expression which is how she discovered her passion for the beauty industry. As a hair artist, Ashley understands how much of a responsibility she has in bringing her clients' visions to life. She is proud to be driven, both by her innate desire to help others feel great about themselves and by her own personal passion for creative colors and cuts. Just shy of 2 years behind the chair, Ashley loves to explore new aspects of the industry, and has most recently started offering nail services such as manicures, gel manicures and nail extensions from Apres Nail as well as offering Hairtalk hair extensions.  Ashley is also experienced in balayage, colormelts, foil highlights, vivid haircoloring, short hair, long hair, pixies, shags, mullets, shaglets, edgy cutting and coloring, buzz cuts, fades, super short cuts and anything and everything in between. You could say she does it all! She believes that the opportunity to develop strong relationships with her clients is a beautiful aspect of the industry, and she aims to make her chair a safe, peaceful haven for any and all who seek her services. Follow @ashleythehairslayer_ for fun posts, tips and everything hair.
Crystal Rodriguez, New Talent Stylist (Providence) Follow me: @crystalrainhair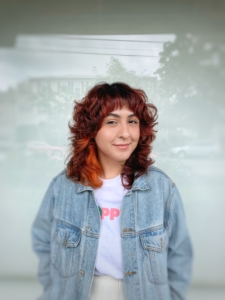 Crystal always knew she would be in the field of the arts. After dabbling in painting, graphic design and photography she felt a calling to pursue hair. She always had an interest in fashion and wanted to partake in the world of hair and makeup…so she took a leap into the world of cosmetology. She is heavily inspired by high fashion, eras like the 60's+70's, pop culture, and anime. Her goal as a stylist is to make everyone feel like a work of art, and collaborate with her clients to make that happen. Crystal specializes in balayage, glossing, foil highlighting, reverse balayage, vivid haircoloring, classic haircuts, blowouts, special occasion styles, short hair, long hair, pixies, shags, mullets, vintage cuts and color, buzz cuts and fades.
Brinley Foley, Receptionist (Providence)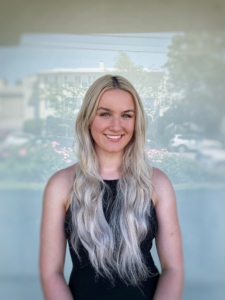 A licensed Real Estate agent, Brinley holds our front end together. If you're looking for efficiency topped with a pleasant and positive attitude, then you came to the right place. Brinley is the bright and cheerful voice on the other end of the line because we know that talking to a real person is still very important these days. She is here for all of your booking needs and accommodations in this crazy and busy world.