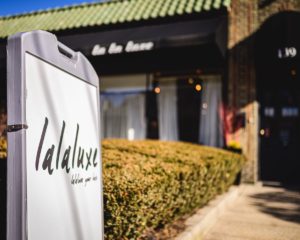 We are open and ready for your calls and emails! We are so thankful for your patience and support.
Here are a few things you can expect at your next appointment.
Face coverings must be worn at all times while in our salon.
Call the salon or text upon arrival and your stylist will call or text you when she/he is available.
Only people receiving services are allowed in the salon
No food or beverages are allowed in the salon at this time.
You must sanitize or wash your hands upon arrival.
You temperature may be taken upon arrival and we will ask you a series of questions pertaining to your health prior to servicing you.
Contactless pay is preferred. (Credit card, Venmo or Apple Pay)
EST. 2010
139 Elmgrove Ave
Providence, RI 02906
401-383-3797
&
91 Main Street in the Tourister Mills
Warren, RI 02885
401-289-3787
For 10 years, La La Luxe Salon has reigned as a modern, upbeat and fun-filled salon providing an unmatched experience in both customer service and high class hair-artistry. Stylist and owner, Leah Carlson and her team offer everything such as precision cutting, straight razor-cutting, curly hairstyling/cutting, balayage highlighting, hand-painted haircoloring, multi-dimensional coloring, foil-highlighting, fashion coloring, corrective coloring, special-occasion styling, grey transitioning and silver-blending, as well as fabulous blowouts and beach waves.  The salon is driven by a team of trend-savvy and fashion-forward artists with many years of experience in the industry.  Every stylist has the same goal of providing the absolute best customer service while making you look and feel great from start to finish.  "What makes us stand out from the rest is that we truly care and we love what we do. Every day we maintain the same passion as we did the day before. We never get tired of the salon life and it shows. My team loves to have fun here and our clients feel that same energy when they're in the chair.  Developing trust with our guests, creating lasting relationships and providing a relaxing and safe environment where you can be you, are all crucial ingredients to a great salon visit. La La Luxe is a no-judgement salon and you will be greeted with a warm smile if you visit both of our locations. We all stand a little taller and we all smile a little more when we look and feel our best. Isn't it time you felt that way leaving a salon?"