Looking artfully disheveled has become an obsession in the beauty world. We pay good money to have our hair color appear grown out, strive to create styles that look like bedhead, and like our makeup ever-so-slightly imperfect. How delightful it is to receive a hair compliment, then casually reply with, "Oh, these textured waves? I slept on them."
It's safe to say that looking like you don't give a s..t has become a trend. So much so, one could argue that the most provocative beauty statement you could make right now is to show up without a hair out of place. This may be why many of the spring 2016 runway shows featured just that: the return of "done" hair.
Hairstylists at DVF, Balmain x H&M, Victoria Beckham, and more sent models down the runway with hair that looked like it took time, effort, skill, and a range of products to achieve. Could this be the end of gym hair as we know it? I'm all for it!
Below are 3 styles that I am obsessed with and a list of the products and how to use them so that YOU too can look polished and pretty for Spring!
Over-The-Top Volume At Balmain X H&M: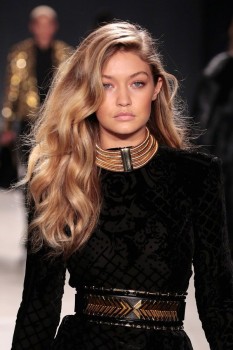 A more affordable Balmain wasn't the only thing to come out of the collaboration that rocked the fashion world this year. Models at Balmain x H&M's show wore big, side-parted curls that screamed "rich-girl hair." Cop the look using RandCo Park Ave Blowout Balm to blowdry. Set dry hair with large rollers and spray on a heavy dose of RandCo Outer Space Hair Spray….remove rollers and brush out with a soft brush. Side part it and then finish with a heavy application of Vicious Strong Hold spray from RandCo. Voila! You're good to go!
The Return Of Pin Curls At Diane Von Furstenberg!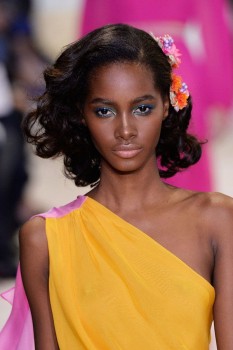 The hair at DVF was inspired by a '70s photo of Von Furstenberg herself that showed a rare occasion when she let her curls go free…And we all know she has killer hair. The secret to copping the look? Pin curls. When I want to achieve this look, I curl small sections of hair with a 3/4-inch iron, pin them to the scalp, and allowed them to cool. Use a little RandCo Outer Space on those small sections.This technique works on any texture, from straight to curly, as it helps to both create and define pristine ringlets. Remove the curls and brush out gently…You want to keep some of the bounce. Finish off with some RandCo Foil (an anti-humidity and anti-static spray that is fantastic for shine and separation)
Chic, Deep Waves At Carolina Herrera…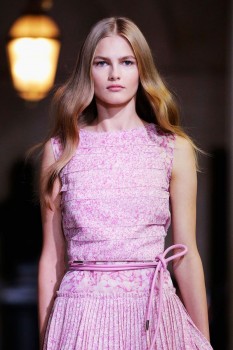 For this look, stylists created waves at Carolina Herrera's show by using a curling iron in a unique way. Are you savvy with the curling iron? Read on: Working on 2-inch sections of hair, press a hot 1.5-inch iron against the hair to create a deep dent, or groove, then repeat on the other side, alternating down the length. Spray a little RandCo Dallas Thickening spray on each dry section to give a little extra hold.
As always, La La Luxe is here to help you achieve ANY hair goals….Give us a call or ask us at your next appointment for a little "how-to"! We love helping you! 401.383.3797
https://lalaluxesalon.com/wp-content/uploads/2016/09/logoNEW-1-300x144.png
0
0
lalaluxe
https://lalaluxesalon.com/wp-content/uploads/2016/09/logoNEW-1-300x144.png
lalaluxe
2016-01-07 15:03:21
2016-01-07 15:03:21
SPRING 2016: The Return of "DONE" Hair!